(*another technical update: I can't figure out how to re-size the photos on photo bucket. I've switched to Picasa but it'll take a few more days to get all the photos re-sized!)
So… I pretty much fell off the Flylady wagon… again. 🙂 And I know it's because I don't have my routines in place well. sigh. One day I'll get it.
Despite the fact that I haven't been flying, my house hasn't been too bad. It may be because Bishop Council Nedd was coming for a visit. 🙂
I've been loving reading decorating blogs for months now. And, of course, they are all going crazy doing fall decorating. In the past, my fall decorating has consisted of hanging a very sad wreath on the door that I made when I had my first apartment (16 years ago!!!!!) plus a few Halloween things that usually went up around October 25th.
This year I had more fun. 🙂
I tried to keep costs low although I did spend a little.
Here's the mantle:
I had all the candle holders and the orange candle. The pumpkins we picked up at the Apple Orchard. I found the grapevine pumpkin in the dollar bin at Target a couple of weeks ago (it was actually $2.50) and the black pillar is actually a tall basket I found on clearance for $2 at Michaels. The main splurge was the awesome wooden owl. I dashed in Kohl's one day before the Bishop came looking for some new placemats. I saw the owls on clearance for 40% off but I didn't get one. I was being good and not spending money I didn't need to spend. But I couldn't quit thinking about it. The next day I was out with John and Jesse and Sophia and we dashed in super quick and grabbed an owl. It was about $11 and worth it because I love it. I smile every time I pass the hearth.
The Target dollar bins were a treasure trove the day I was in there. In addition to the grapevine pumpkins they had tea light lanterns for $2.50 each. I put one on the piano…
(that's it on the far right)
and one on a side table by the couch.
The awesome hanging pumpkin tea light thingy came from Kohl's clearance rack last year:
The final step was to do something about the awful 16 year old wreath. I don't have a picture of it, but picture a straw wreath with fall leaves wrapped loosely around and a couple of fake pumpkins glued on with a hot glue gun and half falling off. The only redeeming quality was a nice bow that my sister made for me that was tied on the bottom. I saw a tutorial on Thrifty Decor Chick on how to do a simple pumpkin wreath. Being somewhat creatively challenged, I pretty much copied her wreath as closely as I could.
Here's a shot of the whole front porch. I got the hay bale at Walmart for $5.97, and Kenny got the pumpkins for me for $3.88 each.
Quick funny story: Kenny liked the wreath so much that he volunteered me to make another one for the church to raffle off at a Fall Festival. (YIKES!! Did I mention I'm creatively challanged?!) One lady from church gave me a strand of fall leaves, and I pretty much bought the same stuff I bought before. Here's how the church one turned out:
Before I put it up, Jesse saw it and helped himself to some "fruit":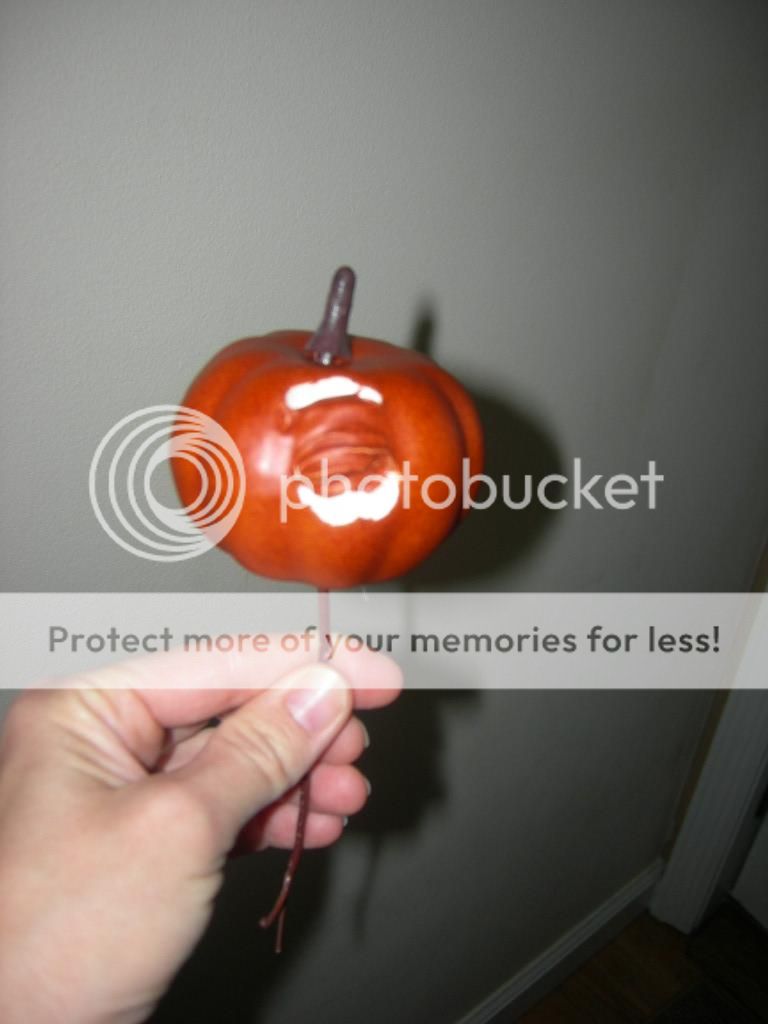 I exchanged it and kept the "special" pumpkin for my own wreath. I crack up every time I see it!!
Have you all had any fun with fall decorating? I still need to get out my jack-o-lantern before Halloween!