(*technical note: Photobucket just updated their site and all the new pictures are posting HUGE. I've GOT to go to the store so I'll have to re-size all the pics later. For now, just enjoy the close-ups!)
A quick note: it wasn't really Apple Tree Farm but Sophia loves those books from Usborne so that's what she called it the whole time. 🙂
Wow! The start of school has really been wild! We may have to do the good vs. best list on activities soon because it seems like we're a little too busy this school year.
We have not completely abandoned Field Trip Fridays. In fact, we had a fantastic time at one of the local orchards a few weeks ago.
We loved the Farm Fest weekend at the apple orchard last year, too, and were eagerly anticipating it this year. Until we saw this sign…
We had heard rumors that the unseasonably warm days we enjoyed in February (I remember skipping school one day and going to the park because it was 80 degrees!) had damaged the apple crop. We hoped it wasn't true but, unfortunately, many of the blooms died in the frost that followed the heat wave. Some orchards were forced to close for the season. We did find a few that still had enough apples to celebrate — including Riverview Orchards, the orchard we visited last year.
Remember last year's picture in front of the Riverview Orchards sign?
Here they are this year in front of the same sign:
We had to pick apples in designated areas because of the crop damage, but we still had a great time. First, after parking next to a swamp
we looked at some super cute farm animals. I *so* want some chickens and goats some day!
Soph was getting a little bored with farm animals
so, after snapping a quick picture of the foliage that was just beginning to change, (this was a couple of weeks ago. The vivid colors are amazing now!)
we headed into the country store for a bathroom break. I thought we'd wait and get cider donuts at the end like we did last year, but last year we waited an HOUR because the waiting line was so long. We were there earlier this year and there was no line so Kenny wisely advised to go ahead and get the donuts first and just eat them there. We took our time and even sipped some lovely coffee.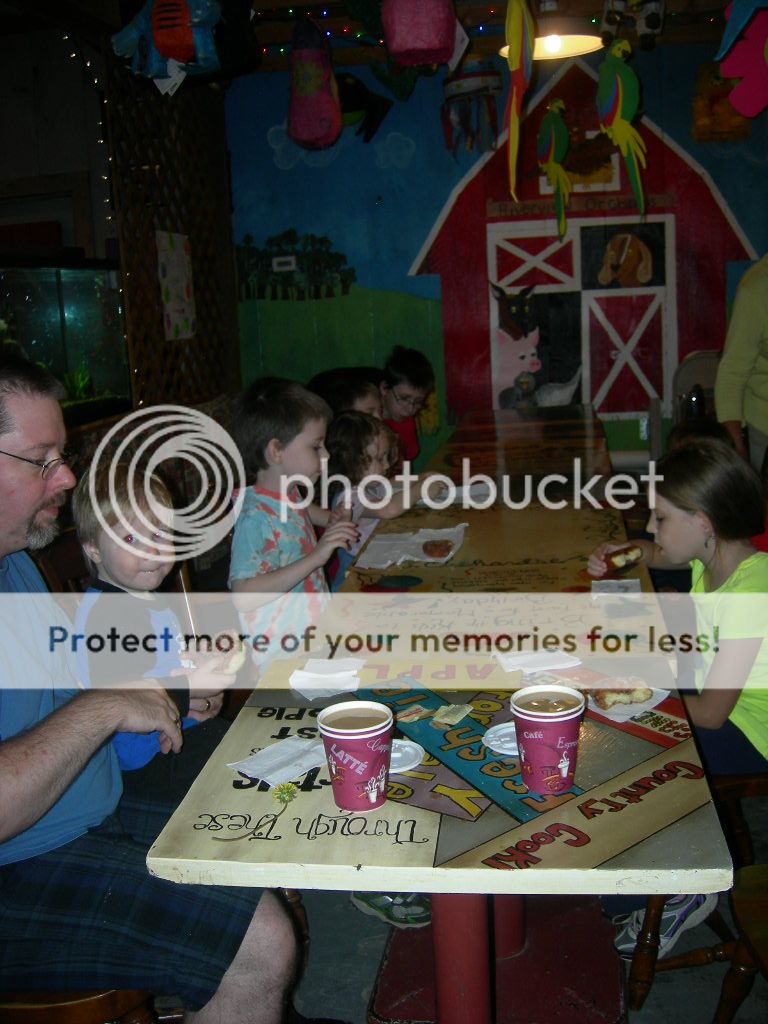 The kids were again fascinated by the real live honey making machine. 😉
Jesse started getting tired at this point so I ran back to the van for the sling before heading over to the orchard. I was so excited to get to use the ole trusty sling one more time. 🙂
We had to wait a while for the hayride.
With the apple picking slim, the hayride was probably the most popular attraction of the day. Finally, we saw it coming around the bend.
So many people were waiting to get on that Dad and Abe decided to be all gentlemanly and walk along behind.
The rest of us were quite cozy.
Look at my pretty girl. 🙂
And then it was apple picking time!
Jesse was big enough to pick his own this year.
Remember this great shot from last year?
If it's possible, Jesse loved apples even more this year!
He even did the sign for apple with an apple…
And nobody better say nothin' about him havin' two apples at once!!!
We picked a big bag full of apples and headed back to the country store for some decorative gourds and fresh cold cider. The kids couldn't resist a quick photo op at the backside of the hay maze before we left.
We made some great memories and can't wait to go back next year!