I know a lot you have seen Novella's dance recital pictures on facebook. But for those of you who are not on facebook (hi Charlie and Diane!) this post is for you. 🙂
Before we moved from Alabama last summer I asked around about dance classes for Novella in New York. I was thrilled to find a place close to us called Kings Dancers that was reasonably priced. They teach classical ballet and dance only to Christian music. Unfortunately they are not as in to modest dress as Novella's previous dance company but it seems to be the best option in the area.
When Novella looked at the schedule she wanted to take hip hop! My initial reaction was no way. But then I thought, why not? It sounds like fun! They offered a ballet/ hip hop combo class that sounded perfect. And she has loved it. Dance class is definitely the highlight of her week. I've never heard a complaint about it and she has been crushed the couple of times she's been sick and couldn't go.
Kings Dancers worked all school year on the big end of year recital. It was amazing! Novella did a fabulous job.
Here she is getting ready for the first on stage rehearsal:
Sissy had to look all cute, too.
What a lucky girl Sophia is to have such a great big sister to look up to. 🙂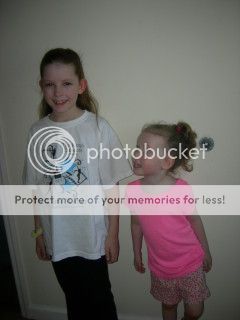 That first rehearsal was a bit of a disaster. About 30 minutes in the dance company was informed that the high school had double booked the space and a talent show was about to come in. They tried to practice in the cafeteria but ultimately re-scheduled the rehearsal for Thursday evening. It was a little disappointing because it really displaced the medal ceremony. The girls' medals were kind of just thrown at them. I forgot to even get a picture of Novella with her dance teacher! Oh well. It's not like she won't go back next year! 😉
Finally it was the big day. Novella wasn't super thrilled about getting eyeliner and mascara but it sure did look pretty!
Here she is in her hip hop clothes after we arrived at the high school.
I took Jesse to the dressing room with me after Kenny and the kids arrived. I thought it would be a good idea to let him "loose" for as long as possible.
Can you tell he's going to be trouble? Oh my that boy tested our patience that day. The recital started at his naptime and went on for the next 3 1/2 hours. I knew it would be long and I naively thought the boy would fall asleep on one of our laps. Nope. He cried. He struggled. He was generally miserable most of the time. Kenny or I almost missed 2 of Novella's 3 dances trying to contain Jesse in the back of the auditorium. Somehow we did and we saw everything and she was marvelous.
Here she is with most of her class.
And then it was over.
Mom and Dad are SOOOO proud of our baby girl.
And poor little Jesse bear? He went immediately to sleep (apparently on his face he was so tired) and slept until 10 o'clock that night. When he woke up we gave him a snack and put him back to bed. We heard him laughing and talking to himself until well after midnight.
Novella can't wait until next year. She's pondering getting into tap as well as ballet and hip hop. I'm not sure we can handle that much dance!