We spent the week before Thanksgiving making very elaborate Thanksgiving lapbooks for school. Did I take any pictures of them? Apparently not! Oh well. We had a blast and learned a lot!
The best part about Thanksgiving this year was that I relaxed and let the kids help a lot. They loved it. And they helped with every aspect. I let them each choose one or two recipes with which to help. They chose their favorites. For Abe, it's all about the rolls —
Wesley's my cornbread dressing man —
John and Sophia tagteamed on the Cranberry Nut bread. The three of us spent the week before Thanksgiving reading and studying the book Cranberry Thanksgiving so they were anxious to help with this recipe. It has been a tradition in the Bailey household since big brother Abe was a first grader. 🙂
John even helped with the dishes. Yea!
For Novella Thanksgiving dinner is just a preamble. She waits all year to chow down on her favorite dessert — Pumpkin Pie. One year she even asked for pumpkin pie for her birthday! Somehow we forgot to take a picture while we were making the pumpkin pie but I snapped a shot of her helping me with the mashed potatoes when things got hairy towards the end of the cooking. That girl was a life saver! She did the potatoes pretty much all by herself. They were yummy. 🙂
And what was little Jesse monster's job? He was the official taste tester, of course!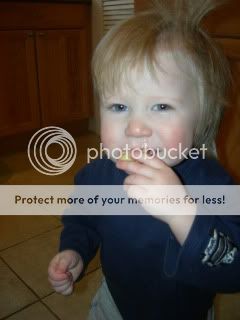 FINALLY, it was time for the feast!!
Cooking with the kids is great fun — even on Thanksgiving!!