Words cannot begin to express how blessed I feel to have had my sweet Iz in my life for the past year. The time has flown but it has all been a dream. Thank you, Lord, for this precious gift of a girl.
Sissy N. suggested the birthday theme — butterflies. It was perfect. I made two cakes. One I formed into a butterfly for Iz and the other I made a two layer for the party guests. They were both carrot cakes with the butterfly one being sans nuts and coconut. Most of the kiddos opted for a piece of the butterfly. 🙂
We had the party at lunchtime and served a light lunch for our guests that included Almond Chicken Salad, cucumber sandwiches, butterfly shaped cheese sandwiches, and fruit skewers. Gma J. made all the food except the cakes. THANK YOU, GRANDMA!!!!
Iz enjoying her butterfly cheese sandwich: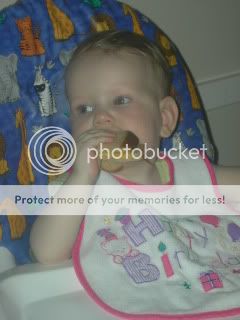 Iz eating her cake:
All the siblings decorated while Gma and I got everything else ready:
After lunch and cake it was on to presents:
All in all, it was a pretty great birthday.