The Field Trip Friday feature on Daffodil Days is going on hiatus after today. I could list lots of reasons to take a break but the main one is that we found this lovely little swim club and we've decided to go there every Friday through the summer!
I read once that to a kid, the mark of a good summer is how many times they get wet. 😉 We've never been great with getting the kids to the pool (it's scary to keep an eye on six at once!), but this place is small enough that we feel pretty comfortable with it.
It has play equipment…
And trees to climb…
It has a beach…
and a small pond to splash around in (with lifeguard!)…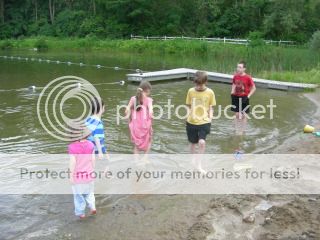 What more could you ask for? (oh yeah, it has a couple of grills, a volleyball net, and some picnic benches, too!)
We'll continue our exploration of New York come fall when we're back in school. For the summer, we'll be relaxing at the beach!